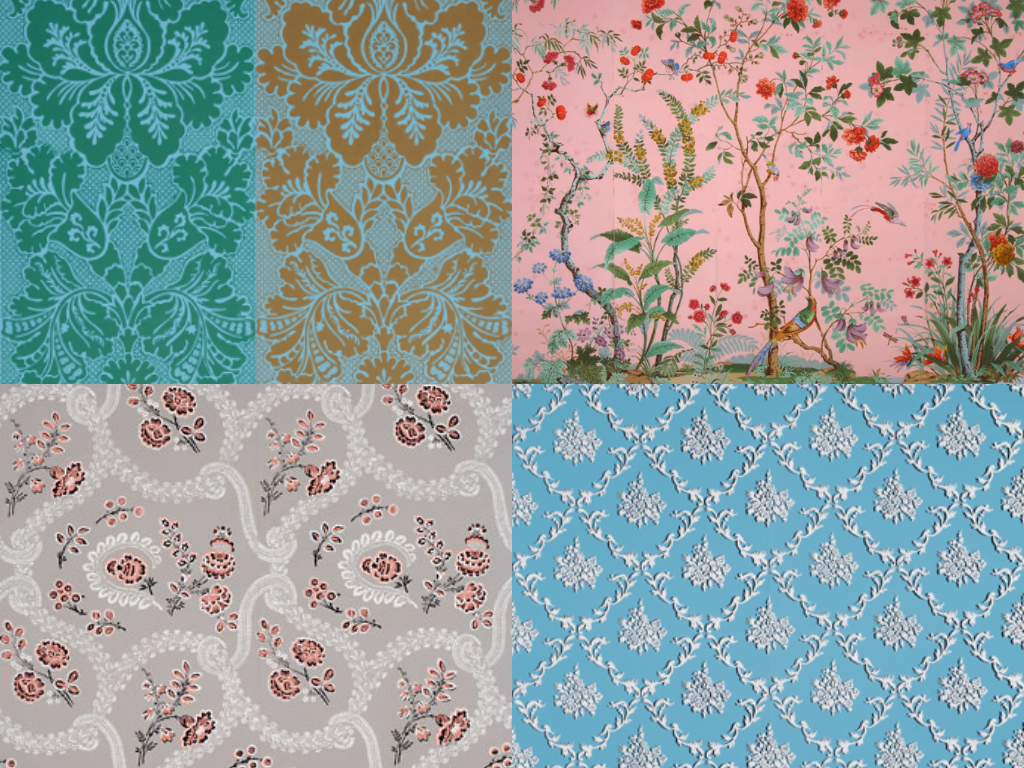 There is probably nothing more divisive than wallpaper in a home. You either love it or you hate it. And if you love it, there will still be moments you hate it, like when you are removing 4 layers of it, one of which was painted over at some point. Historic homes in the Victorian and Colonial eras loved their wall paper, it was a sign of wealth. Many owners of old homes today choose to restore original details for an authentic look, and so finding wallpaper designs that are a true representation of what would have been in homes in the 1700-1800's is imperative.
There are many companies that have recreated historic wallpapers, and even companies that can reproduce wallpaper from samples if your home needs some patch-working done to finish rooms that still contain some original wallpaper that you cannot find a match for in current inventories, or even from a photograph. Many companies will use block printing for authentic reproductions, but silkscreen and rollers are also options.
We've gathered a few of our favorite historic wallpaper patterns and a list of companies that currently provide wallpaper for Victorian, Colonial, Arts and Crafts, and Neo-Classical historic homes.
Adelphi Paper Hangings – Producer of the finest quality, block-printed wallpapers available on the market today. Our wallpapers are meticulously reproduced from original documents and hand-printed by skilled artisans using the same methods and materials employed in the eighteenth and nineteenth centuries.
Aesthetic Interiors – Our goal is to provide affordable historic wallpapers to everyone from the do-it-yourselfer home restorer to the professional interior designer.
A.L. Diament and Co. – A.L. Diament & Co. was established in 1885 in Philadelphia, and is the oldest and continuing wallpaper company in America.
Beauchamp Wallpapers – The company has faithfully reproduced historic wallpapers over many years and has an extensive Design Archive representing periods from the 17th to 21st centuries.
Belfry Historic – Purveyors of historically accurate fabrics, carpeting, wallpaper and trimmings.
Bradbury and Bradbury – Bring to life the architectural styles of the 1880s through 1960s with Bradbury & Bradbury Art Wallpapers in historic Victorian, Arts & Crafts and Art Deco, Post-War and Fifties Modernism designs.
Bruce Fine Papers – We specialize in the manufacture of block printed wallpaper, which is a historic process that gives a quality to the product that is impossible to achieve using modern high speed production methods.
Burt Wall Papers – We handcraft wallpaper, replicating the authentic pattern and color that once belonged to your walls. Our specialty is accomplished through the artful use of screen-printing.
Charles Rupert – Featuring small collections of Victorian and Arts and Crafts wallpaper.
Hamilton Weston – With a range of unusual wallpaper and period designs to choose from they are particularly appropriate for Georgian, Victorian and Edwardian interiors, but many are just as successful in contemporary settings.
Laura McCoy Designs – Laura Mc Coy Designs, Inc. (LMD) specializes in reproducing document wallpapers for museum houses and private clients.
Mason and Wolf – period wallpapers from the Arts & Crafts movement and the late Victorian era, a time when wallpaper design reached its highest artistic expression.
Second Hand Rose – When all else fails, see if someone else is selling the wallpaper you need!
Trustworth Studios – Trustworth Studios Wallpapers represent some of the best of the English Arts and Crafts Movement. They rely heavily on the designs of CFA Voysey and are reproduced from our own period documents and those in private collections.